What Our Patients Like Most About Our Pharmacy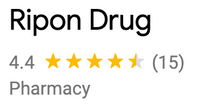 "This pharmacy is one of kind."

"This is the best drug store around! The employees are wonderful and helpful. Connor will bend backwards to help you in any situation!"

"I have never been disappointed in their service."

"The best place in Wisconsin. I love this place. Personalty I've never been to this place but it's the best. Trust me."

"Excellent little shop that has great pharmacists that are personable and thorough."

"Great people and good choices."